Sharing the Power of Trust
Layout of whole vehicle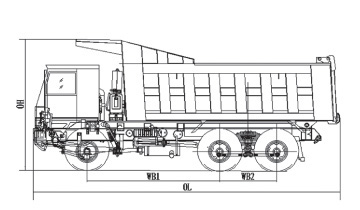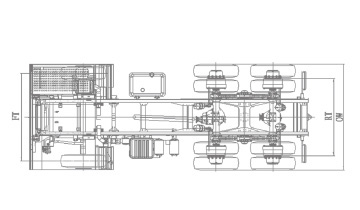 Advantages
Strong Power
This truck is equipped with the Weichai 12L high-displacement and high-power engine with a torque up to 1750N•m, the Meritor heavy-duty axle with a maximum torque of 2200N•m, the FAST reinforced 10-gear transmission and the PTO device with a torque up to 700N•m. After being coordinated by Benz technology system, its power system has a high output torque and a strong gradeability up to 43%.
The Weichai high-displacement 12L engine with mature technology and the injection pump made by Bosch technology are adopted, providing a reliable power system; the reinforcement design of key parts, chassis system, suspension and rear axle boost the reliability completely; the adoption of Benz technology realizes the pertinent matching design based on the actual use conditions of the vehicle; it can adapt to the bad road conditions, and has good transverse stability and strong rollover resistance.
High loading capacity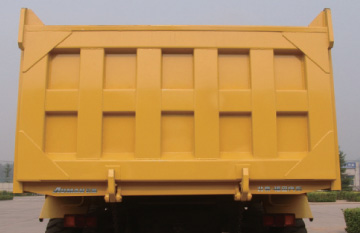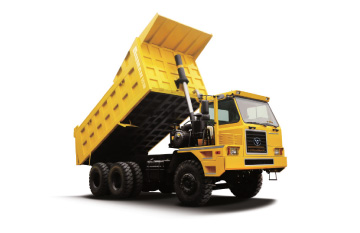 The strongest Meritor axle, the vehicle frame made of high strength material, the optimized reinforced and widened suspension system, the reinforced front and rear leaf springs and balance shaft are equipped; the 14.00-24 engineering tires are optional; the trunk is lengthened to 5800mm and widened to 3000mm, wider than the ordinary widened mining truck; the width of bottom plate is up to 20mm; the loading capacity of this truck is higher than that of ordinary mining truck by 30%.
The loading capacity of front axle is 12t and that of middle and rear axles are 25t respectively. So, under standard condition, the loading capacity of whole vehicle is up to 62t, and the maximum of that can achieve 70t, which is higher than other similar products .
High adaptability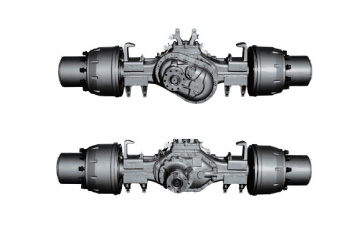 Its great ground clearance and good trafficability can meet the work conditions of various mines and large constructions sites. The truck is designed pertinently based on the bad road conditions of mining truck, and its key parts are reinforced; the mature golden power assembly is adopted; the Benz technology is adopted for professional matching. Therefore, the truck has a high reliability and can work all day long
Interior and exterior of cab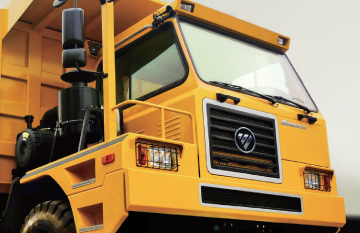 Appearance of cab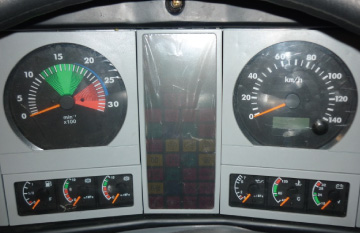 Integral instrument panel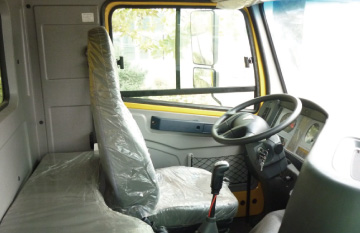 Large-space cab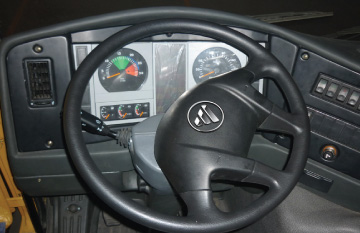 The steering wheel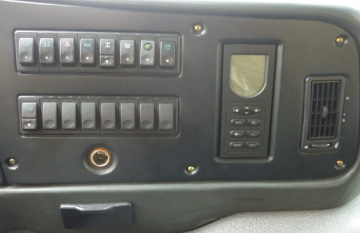 Integral control panel
Specification
Drive style
6x4
Steering wheel position
Left hand
Product parameters
Vehicle model
BJ3655 DVWKB-1
Complete vehicle dimension
WB1+WB2+WB3 (mm)
3750+1600
Overall dimensions ( LxWxH ) (mm)
8746X3057X3915
Inner dimensions of the cargo body (LxWxH)mm
5800X2800X1500
Wheel track ( Front/Rear ) (mm)
2500/2252
Complete vehicle mass parameter
Chassis kerb weight (kg)
23800
Rated payload (kg)
51040
GVW (kg)
65000
Complete vehicle performance
Maximum speed (km⁄h)
55
Maximum slope of climb ( % )
43
Product configuration
Cabin
Type
Single side cabin 2130
Engine
Model
WD12.375
Type
In-line,six-cylinder, water cooling, four-stroke,
DI, turbocharging, intercooling, diesel engine.
Displacement (L)
11.596
Max power (ps⁄rpm)
375⁄2200
Max torque (Nm⁄rpm)
1500⁄1300~1600
Clutch
Type
Single disc, diaphragm spring
Plate diameter
Φ430
Gearbox
Model
10JSD220A(QH70)
Brake
Service brake
Dual circuits pneumatic brake
Parking brake
Energy-accumulating spring air cut-off brake
Auxiliary brake
The engine exhaust brake
Suspension
Front suspension⁄leaf spring number
Longitudinal leaf spring with dual acting
telescopic shock absorbers and anti-roll bar,13
Rear suspension⁄leaf spring number
Longitudinal leaf spring with balance suspension⁄14
Rear axle
Rated load ⁄ Gear ratio
25T⁄11.39
Tyre
Model
13.00-25
Quantity
10+1
Steering
Model
13.00-25
Fuel Tank
Capacity ⁄ Material
1380L⁄Aluminium
Electrical system
Rated voltage
24V
Battery
12⁄6-QA180x2
All specification are subject to change without prior notice.
.