Turbo charged engine with intercooler
Highlight Feature of Bison BJ1049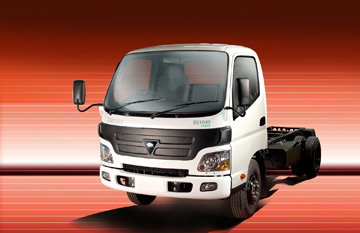 Model – Phaser 110TI
Capacity 3,990 cc
Euro 2 Engine with turbocharger and intercooler.
Max Output 110 ps @ 2,600 rpm
Max Torque 36 kgm @ 1,400-1,600 rpm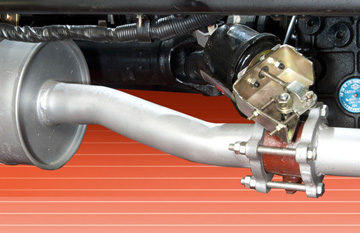 Exhaust brake for safety and reduce brake wear on down hill operation.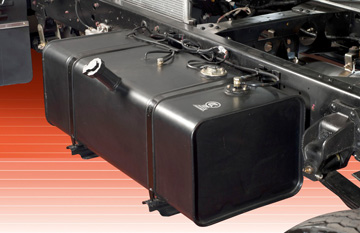 Large 120 litres fuel tank for longer distance drive before the next refilling.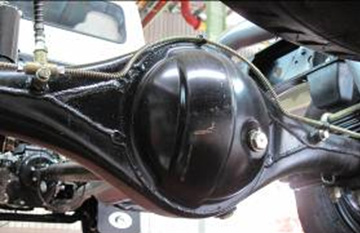 Tough and robust heavy duty rear axle and suspension to withstand heavy load in rough terrain operation.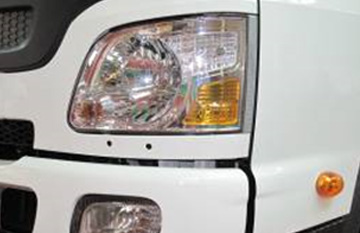 Modern designed head light for clearer and brighter night driving.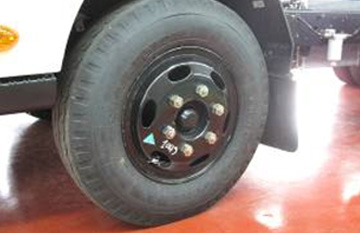 Six studded wheel to withstand severe shock load in rough terrain operating condition.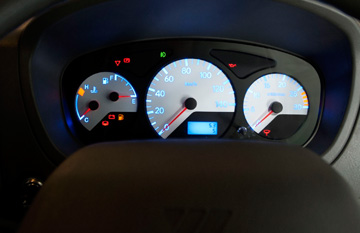 Backlight instrument panel with digital odometer for easy reading.
Adjustable power steering to suit various driving position and easy maneuvering in city delivery.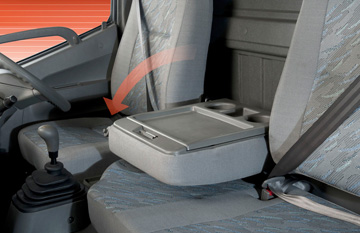 Drink and food tray for driver comfort and convenience.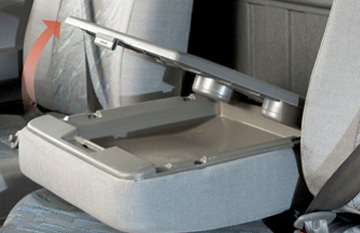 Hidden storage compartment for important documents.
Power window and central locking/alarm system for convenience and better control.
Load Sensing Proportioning Valve (LSPV) for precise brake force distribution according to load.
SPECIFICATIONS
PERFORMANCE
GVW
5,000
Minimum Turning Radius(m)
7.25
Maximum Speed(km/hr)
95
Maximum Gradeability(%)
46
ENGINE
Make and Model
Phaser 110Ti
Type
Water Cooled, Turbocharged Intercooler
Number of Cylinders
4 Cylinder Inline
Bore x Stroke(mm)
100 x 127
Total Piston Displacement(cc)
3,990
Max. Output(ps)
110PS @ 2,600 rpm
Max. Torque(kg.m)
36 kg.m @ 1,400/1600 rpm
Max. Engine Speed(rpm)
2,964
Compression Ratio
17.5 : 1
Lubrication System
Forced Feed by Gear Pump
Cooling System
Forced feed by centrifugal water pump
Fuel System
- Fuel Injection Pump
In-line Pump
- Govener
Incorporate in injection pump
Air Cleaner
Dry Paper Element Type
TRANSMISSION
Make & Model
5T108
Type
Five Forward Speed
Gear Ratios
1st : 4.754 , 2nd : 2.733 , 3rd : 1.680 ,
4th : 1.000 , 5th : 0.751
Rev :5.084
Gear Shift
Floor Mounted Manual Shift
P.T.O
On left side of transmission
Final Reduction Ratio
5.571
WEIGHT(kg)
Chassis with Cab
2,130
- on Front Wheels
1,193
- on Rear Wheels
937
Gross Vehicle Weight
5,000
- Designed Front Axle Load
2,300
- Designed Rear Axle Load
5,000
CHASSIS
Clutch
Single Dry Plate
Release Mechanism
Hydraulic
Front Axle
Reverse Elliot "I" Beam
- Front Spring
Semi-elliptic leaf spring
- Width x Span x Leaves
70 x 1,220 x 4
Rear Axle
Single Reduction
- Rear Spring
Semi-elliptic Leaf spring
- Width x Span x Leaves(Main)
70 x 1,260 x 6
(Helper)
70 x 960 x 7
Shock Absorbers
Telescopic Double Acting
Wheels and Tyres
- Tyres(Front)
Single 7.00 x 16 - 10PR
(Rear)
Dual 7.00 x 16 - 10PR
-Rim
5.50F x 16
-Spare Wheel
One with wind-up carrier
Steering
Hydraulic Power Assistance
Service Brake
Vacuum Servo Hydraulic, Dual Circuit
- Front
Internal expanding twin leading shoe
- Rear
Internal expanding twin leading shoe
Parking Brake
Mechanical Type at rear of transmission
Auxiliary Brake
Exhaust Brake
Frame
Ladder type, Channel Type Side Member
Fuel Tank Capacity(L)
120 liter
Electrical Equipment
24 Volt
- Battery
100A.H 12volt x 2
- Headlights
Combination Headlamp
Others
Adjustable steering wheel, Stoplight, licence light,
Turn Signal,back-up light, Horn,Power Window
DIMENSIONS(mm)
Wheelbase
(WB)
3,360
Overall Length
(OL)
5,875
Overall Width
(OW)
1,840
Overall Height
(OH)
2,200
Front Tread
(FT)
1,530
Rear Tread
(RT)
1,485
Front Overhang
(FOH)
1,085
Rear Overhang
(ROH)
1,430
All specification are subject to change without prior notice.
.